Objectives and actions of the LIFE Egyptian vulture project were illustrated to the CUFA Anti-Poison Dog Units as part of an update and qualification meeting that brought them together in Tuscany in December 2019.
The Egyptian vulture is a very vulnerable species due to the presence of poisoned baits and morsels and for this reason its conservation cannot be separated from the prevention of the illegal use of poison and the mitigation.
To achieve these objectives, the LIFE Egyptian vulture project in Italy develops various awareness-raising activities and, in addition, avails itself of the support of the CUFA Carabinieri Unit for Forest, Environmental and Agri-Food Protection in order to be able to count on the use of its Anti-Poison Dog Units.
This collaboration, which will be formalized by an agreement between CUFA and ISPRA, will lead the Anti-Poison Dog Units to carry out inspections in order to search poison in the most sensitive areas for the Egyptian vulture.
In 2019 there are 11 UCA managed by CUFA with 12 conductors, numerous support agents and 21 dogs "specialized" in the search for poison.Activated thanks to five LIFE projects (Antidote, Pluto, WolfAlps, Medowolf and Mircolupo), the UCAs carry out hundreds of inspections each year which lead to the localization and removal of dozens of carcasses or poisoned morsels.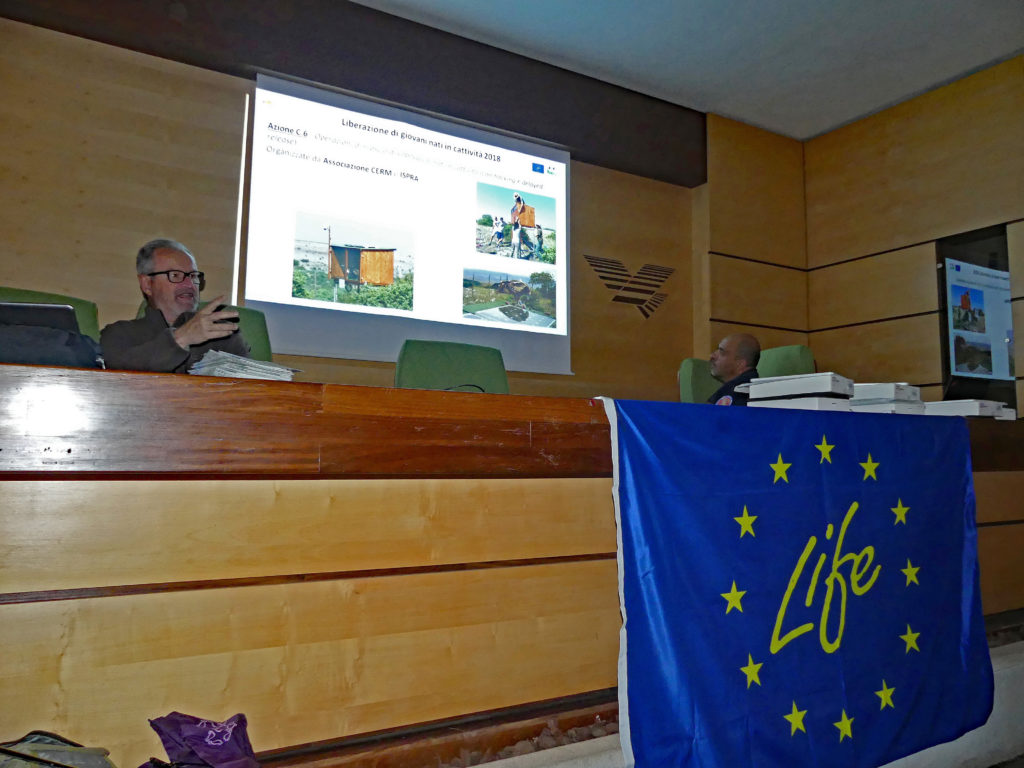 The UCA qualification event, organized as part of the LIFE Pluto project from 2 to 6 December 2019 in the Marsiliana State Reserve (GR), gave the project managers of the LIFE Egyptian vulture project, Anna Cenerini and Guido Ceccolini, the chance to provide CUFA staff with detailed information on the state of the Egyptian vulture, on its distribution area, on the migration areas and on the actions that the LIFE Egyptian vulture project provide to promote his conservation.
During the LIFE Egyptian vulture project, a close synergy between ISPRA, project manager and CUFA staff will allow UCAs to operate in the most important areas for the species, carrying out inspections aimed at verifying the possible illegal use of the poison.
During the week of joint work, CUFA staff was also able to visit the CERM Rapacious Threatened Center of Rocchette di Fazio (GR), where the CERM association is dedicated to the ex-situ reproduction of the species obtaining young specimens that are intended to release in kind.