Five of the eight Egyptian vulture that were released in Basilicata in the summer of 2019 are still monitored using the GPS / GSM dataloggers they are equipped with: three of them seem determined to spend the winter in Italy while two have reached Africa.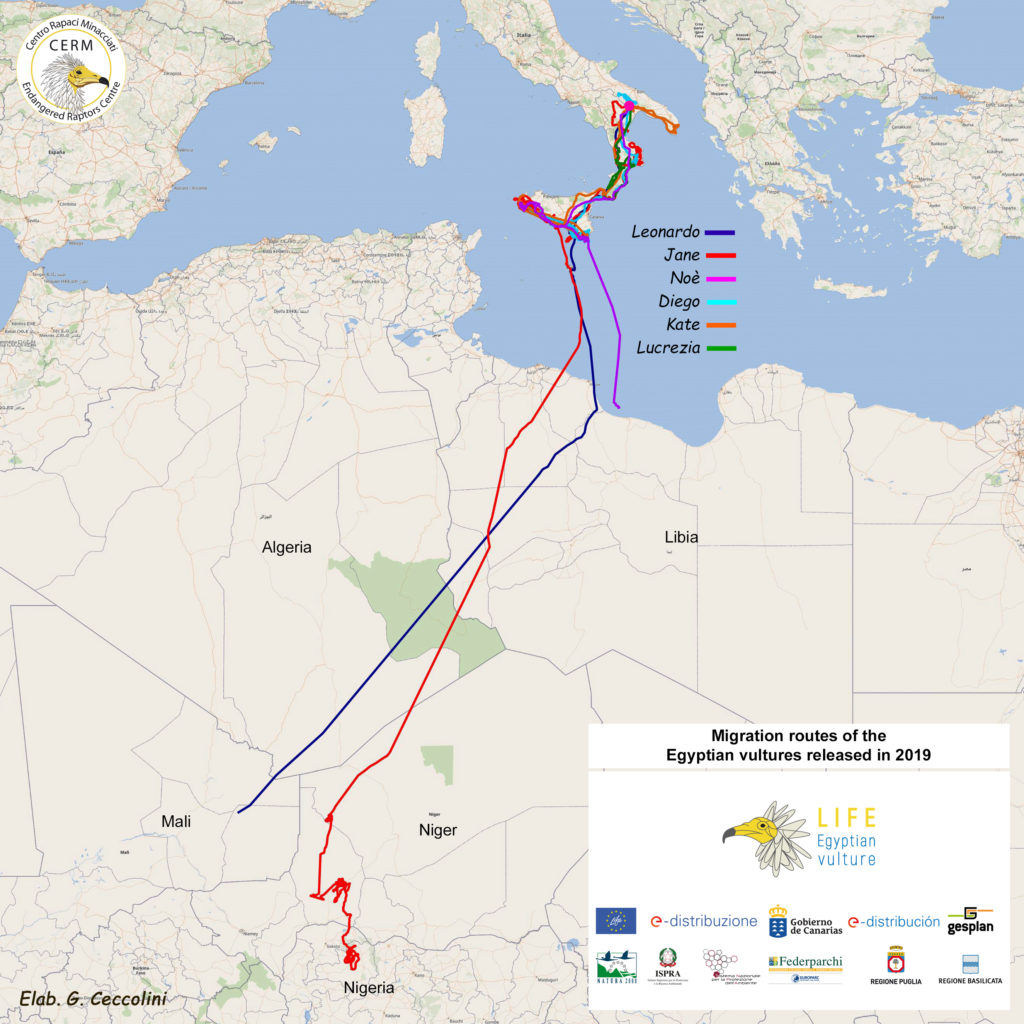 The first Egyptian vulture to reach Africa was Leonardo, who made a really rapid and decisive migration: he left the Murgia Materana Regional Natural Park on 31 August, the young Egyptian vulture reached Sicily in the arch of three days and, from there, crossed the Mediterranean sea.
After an overnight stop over in Malta, on September 4 it flew over the coasts of Libya and then went into the desert, heading south. On September 15, it arrived in central-eastern Mali, where it stopped.
Jane made a much slower migration: after her departure from Basilicata, which took place on 6 September 2019, she first settled in Calabria for almost a month and then spent another month in Sicily.
On  4 October  she left the southern coast of the island, crossed the Mediterranean and reached Libya immediately after sunset. In the following days she continued the journey until arriving in Niger on 11 October; here she remained a month and then moved to Nigeria.
Noah, unfortunately, did not have the same luck as Jane and Leonardo and failed to arrive safely on the African continent. Starting from Sicily on 4 October while an unfavorable wind was blowing, the animal was pushed too far westward during the flight into the open sea and found itself facing a stretch of sea that was too long. He didn't make it and he drowned only 40 km from the coasts of Libya.
Three other young Egyptian female vultures are still in Italy and will probably die there.
Diego and Kate have settled in Sicily, respectively from 29 September and 12 October. They travel along the western coast of the island, from the far south to the extreme north.
Lucrezia decided to leave Basilicata late: leaving the release area on 4 October, she arrived in the southern part of Calabria on 17 October and is still located in that area.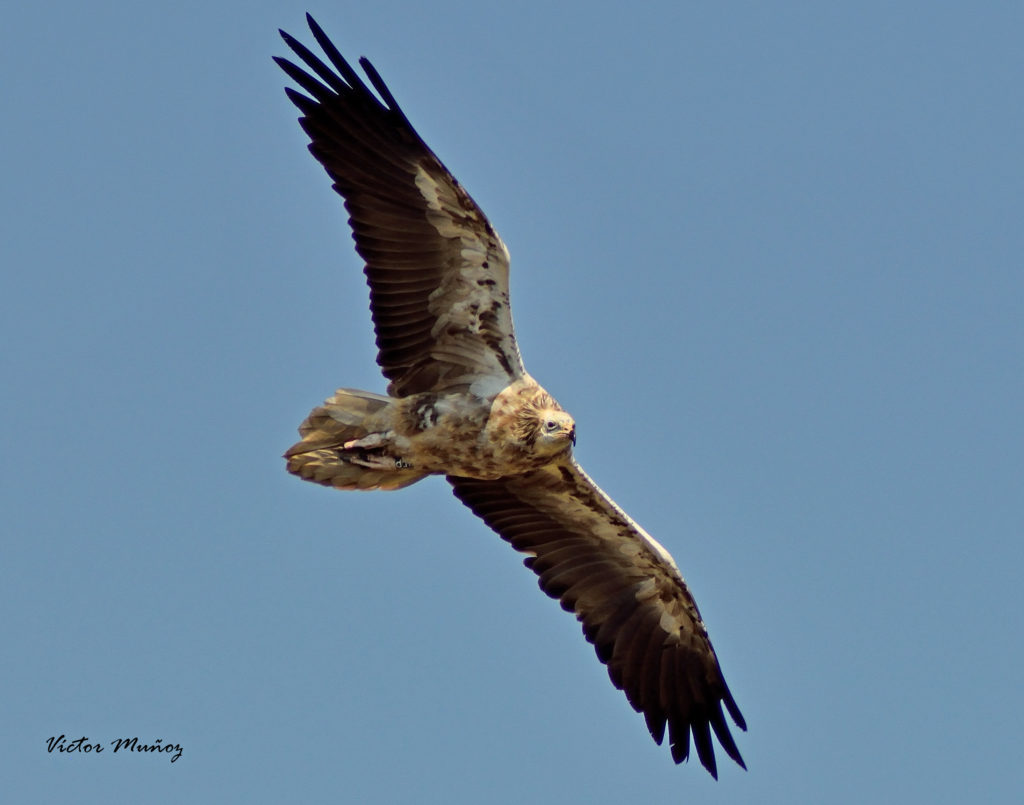 Many Calabrese and Sicilian ornithological volunteers, constantly advised of the position of the Egyptian vultures by the CERM Association, continue to "follow them" and, sometimes, to supply flying carnai.
There is also the collaboration of various local breeders, some of whom have taken to heart the fates of these animals that gladly attend their pastures and the outskirts of the sheepfolds.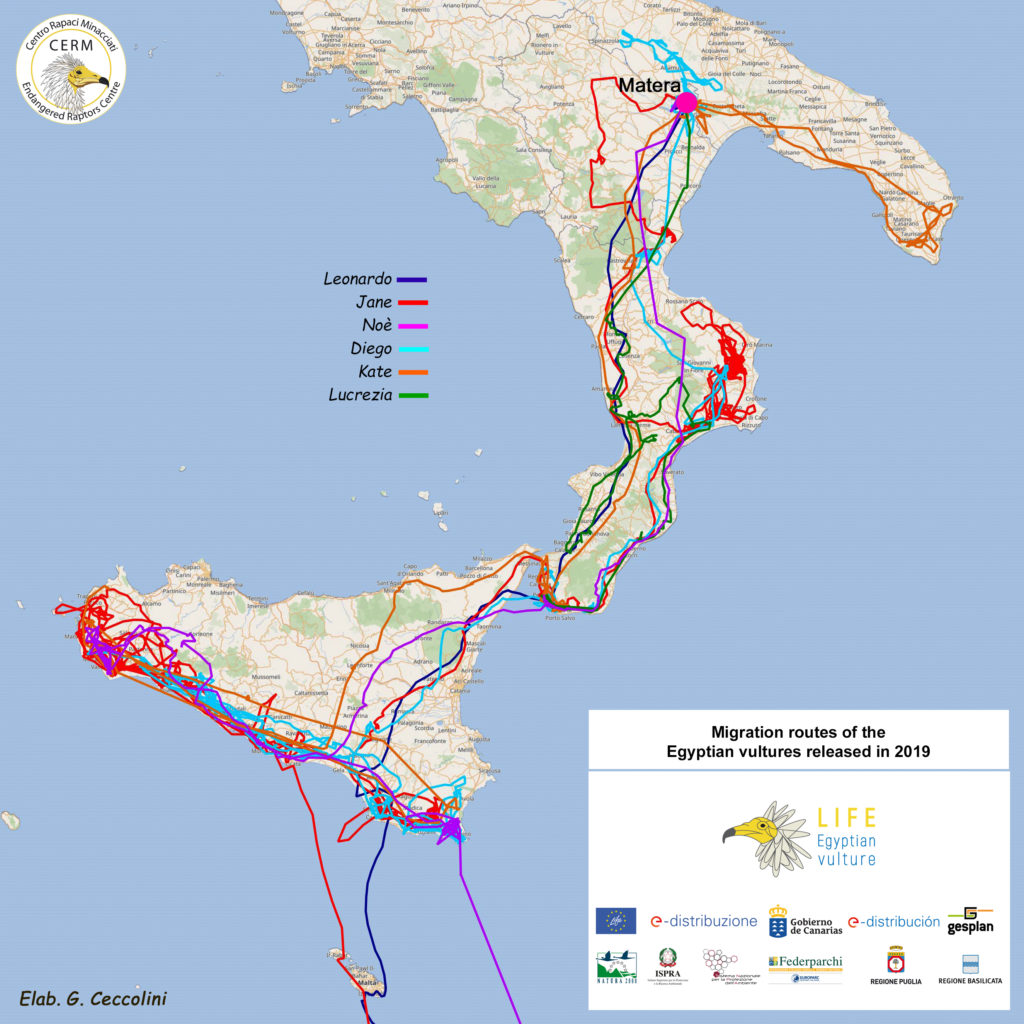 Finally, we recall the numerous interventions of the Carabinieri forestry that ensure, when necessary, adequate control of the territory in which the young Egyptian vultures  stop.