The association CERM (Endangered Raptor Centre) has funded and produced a manual on managing Egyptian vultures in captivity, the only document of its kind anywhere in the world. The document was presented during a captive breeding workshop that took place in Italy between the 15th and 17th of May 2018, in the upper valley of the Albenga river in the province of Grosseto.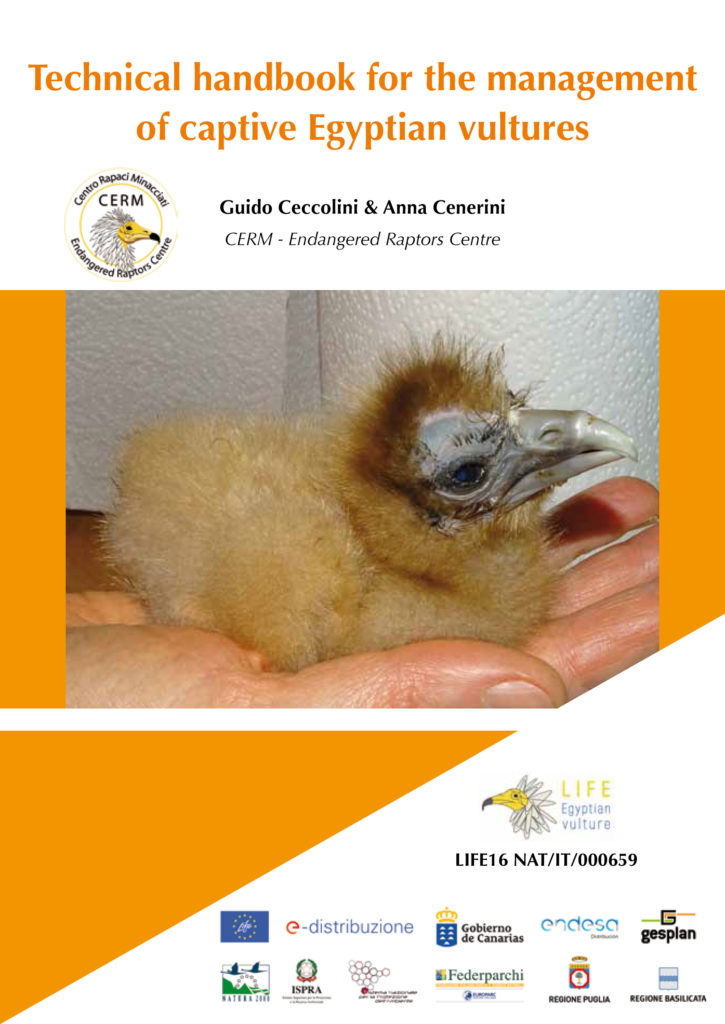 The manual, which was prepared by Guido Ceccolini and Anna Cenerini, is the result of 20 years experience of managing the largest captive stock of Egyptian vulture in the world. This stock, which currently consists of 44 individuals, is housed at the Endangered Raptor Centre (CERM) near Rocchette di Fazio, in the southern Tuscany (Italy), and as at 2017 has seen the birth 46 birds, 23 of which have been released into the wild.
The ex-situ breeding of these birds is beset by a series of critical issues, meaning that it is one of the least productive species, hence, the purpose of the manual is to provide useful information and indications for structures housing captive populations of Egyptian vultures, with the aim of increasing the number of births, and hence the number of birds available for release.
In these way, the captive animals, many of whom were born in the wild but are now obliged to live in captivity as a result of accidents or other unfortunate events, can still make a continuation to the survival of the species, by producing young individuals that can be released into the wild in order to reinforce threatened populations, such as those in Italy.
This manual, which is highly specialised, covers a range of key aspects regarding the breeding of Egyptian vultures, with particular onus on preparing nests, managing difficult pairs, artificial incubation of eggs, assisting chicks during hatching, rearing chicks by hand, and adoption by single parents or pairs.
The manual (in English) is available in PDF format from the following qui.