In Rome on 25th January 2018, an operational meeting organised by Federparchi-Europarc Italy was held with the parks in southern Italy aimed at promoting their involvement in the LIFE Egyptian vulture project and sharing conservation ideas for the Egyptian vulture.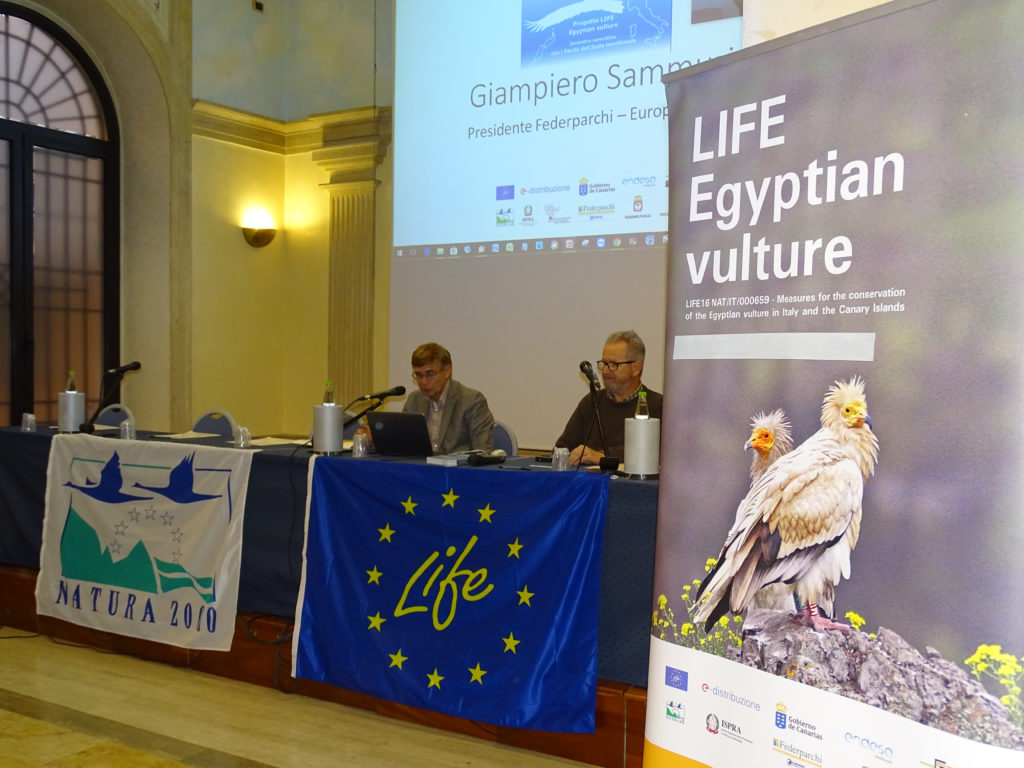 The event, which was introduced by the President of Federparchi, Giampiero Sammuri, was attended by the managers and staff of various National and Regional parks in southern Italy together with members of the beneficiaries of the project.
Alessandro Andreotti of ISPRA presented an analysis of the status of conservation of the Egyptian vulture in Italy and of the main threats that have led to its progressive and significant demographic decline, accompanied by the shrinking of the area.
The experts from Biodiversità sas presented a report on the main activities of the project, with particular attention paid to those that will be carried out within National and Regional Parks and which will consequently require the sharing and collaboration of the managing bodies.
A specific presentation supported by Mauro Salvadori's e-distribuzione contribution focused on safety measures for medium-voltage power lines. He illustrated the various types of modifications that can be made in relation to the structural characteristics of the equipment and to the various environmental situations in order to avoid the risk of electrocution to the vulture and other bird species which are vulnerable to this threat.
Subsequently, the measures favourable to the conservation of the Egyptian vulture that could be activated or strengthened in the protected areas in a synergistic or integrative manner with respect to the measures of the LIFE Egyptian vulture project were indicated.
During the afternoon session of the meeting, the beneficiaries of the project introduced the draft of a memorandum of intent in coordination with the parks in southern Italy in order to define the areas and methods of collaboration regarding the activities envisaged by the LIFE Egyptian vulture project. In addition, they created a permanent network able to maximise the achievable results and to pursue conservation initiatives beyond the end of the LIFE project.
One of the objectives of the protocol is also to promote the sharing of expertise about the project and the beneficiaries to the parks in order to facilitate the replicability of the activities carried out and the methodologies used in the LIFE Egyptian vulture project.
The draft protocol will be submitted to all interested parks to implement the necessary changes and additions.
The day concluded with a discussion on the addressed issues, which involved, among other things, the management of feeding stations and the availability of nesting sites in relation to the practice of sporting activities in protected areas.