On May 16, 2022, four young Egyptian vultures born in previous years at CERM Centro Rapaci Threatened  were released in Basilicata, in the Murgia Materana Park: Dina and Flora, born in 2020, and Pina and Sid, born in 2021.
It was therefore a so-called "delayed release because it involved individuals of one to two years of age.This is one of the two release methodologies used in the LIFE Egyptian vulture project; the other, defined as "hacking", consists in the release of young people born in captivity when they are about three months old, therefore in the month of August. This method helps to reproduce the fledging of the young born from wild couples.
The comparison of the results obtained with these two different release techniques will allow us to evaluate the age of release that guarantees the animals more chances to adapt to wild life but also to migrate and reach the wintering areas. The success of each operation, in fact, does not depend on the good physical conditions of the Egyptian vultures only but also on numerous environmental factors that can vary in the different periods of release (for example the weather conditions, any threats that could cause their death or injury, etc.).
The release of May 2022 was carried out in the southern part of the Murgia Materana Park (SAC / ZPS Gravine di Matera), in a site other than that used for the releases carried out in the period 2018-2021.As in previous years, before being released, the animals spent five days in a nest box which, in this case, directly overlooks the ravine of Matera. This allowed the Egyptian vultures to more easily reach the rocky walls, their natural breeding environment.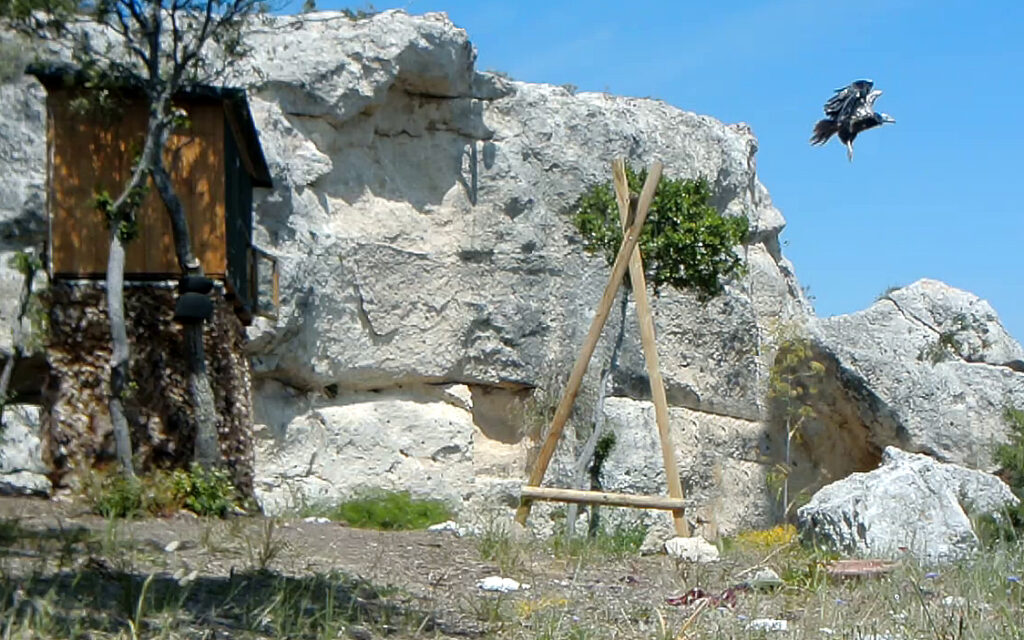 As in 2021, the release was coordinated by ISPRA and organized by De Rerum Natura sas with the support of Biodiversity sas and the collaboration of the CERM Association.