In 2021 the Egyptian vulture population of the Canary Islands reached 402 individuals, confirming a growing trend for many years. In 2019, 361 individuals were registered, therefore, only in the last three breeding seasons, there was an increase of over 11% in the population.
The monitoring activity is carried out by a working group of the Estación Biológica de Doñana-CSIC, directed by Doctor José Antonio Donázar, which works in coordination with the Directorate General for Ecological Transition, Fight against Climate Change and Territorial Planning of the Gobierno de Canarias.
The challenging and complex fieldwork carried out by the research staff includes the census of Egyptian vultures, monitoring of reproduction and use of dormitories and supplementary feeding stations.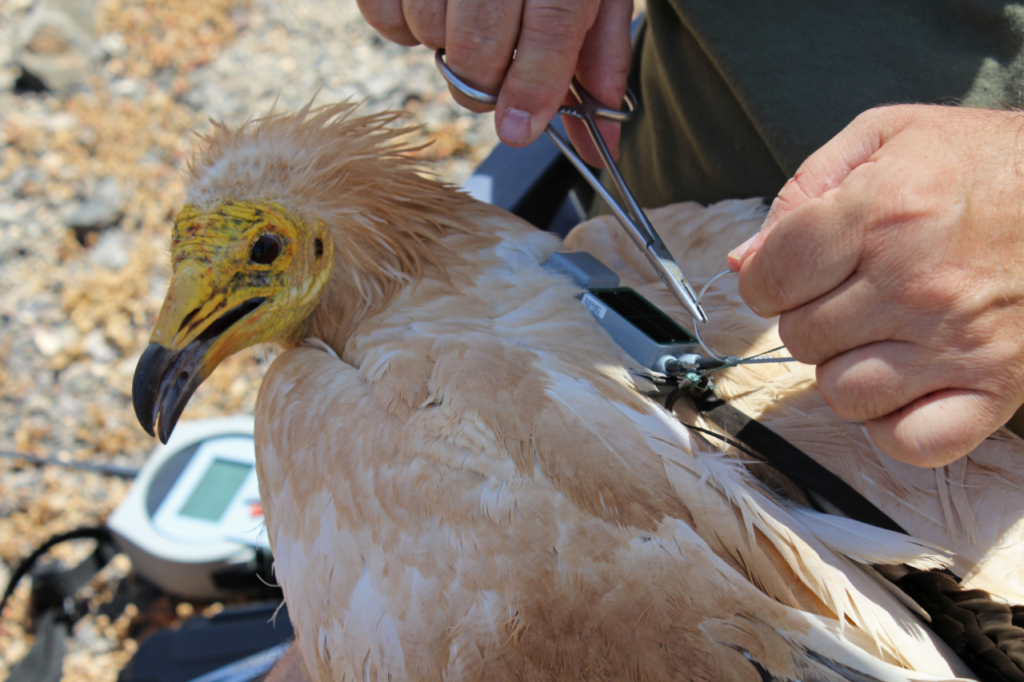 It is an enormous but essential effort to have in-depth knowledge that allows you to keep the conservation status of the population under control and to identify any critical issues. The marking of individuals is essential to be able to carry out effective monitoring, 352 Egyptian vultures are equipped with a PVC ring, the one most easily read from a distance. In addition, 64 Egyptian vultures are equipped with a GPS / GSM transmitter, so that it's possible to know exactly their location and behavior (20 were applied in 2021).
In 2021 the Egyptian vulture population consisted of 191 reproductive adults (171 in Fuerteventura and 20 in Lanzarote and the islets of Alegranza and Montaña Clara) and 211 non-breeding Egyptian vultures. In the same year, 90 reproductive territories were identified and monitored, most of which (81) were located in Fuerteventura, 7 in Lanzarote and one each in the islets of Alegranza and Montaña Clara.
Compared to 2020, an increase of seven territories was recorded and this positive trend appears even more significant considering that in 1998, the year in which the accurate and constant population census began, the territories surveyed were only 21.
It is also important to note that in Lanzarote, where population growth is slower than in Fuerteventura, three new territories have been identified in the last two years.
In 2021, 49 young people took off, 43 in Fuerteventura and 6 in Lanzarote and the neighboring islets; as many as 41 of these juveniles were fitted with rings (as well as 46 adult individuals, who were captured and marked).
Despite the increase in the population, the reproductive parameters show a strong irregularity and an apparent decreasing trend even if the values ​​relating to 2021 are better than the previous two years.
In 2021, a reproductive success (number of juveniles per pair) of 0.53% was recorded, which is quite low for the species.
Some nestings, unfortunately, fail every year and this may be due to anthropic disturbance but many other factors may contribute that should be investigated.
The team of the Estación Biológica de Doñana-CSIC also carried out 241 checkups in the dormitories frequented by the Egyptian vultures, which are the power lines that cross Fuerteventura and Lanzatore.
The largest group of Egyptian vultures, consisting of 40 individuals, was observed on a power line in Fuerteventura on 15 July 2021.
Many observations were made in the two active feeding stations in Fuerteventura and in the one present in Lanzarote.The attendance record was recorded in the carnage of Tiscamanita (Fuerteventura), where a maximum of 186 individuals were counted during the same day.
Four dead Egyptian vultures were located between October 2020 and October 2021, one due to an impact with a wind generator and three due to unknown causes.